Wichita Falls, TX, get Safe, Secure, and Organized Records Management and Storage Help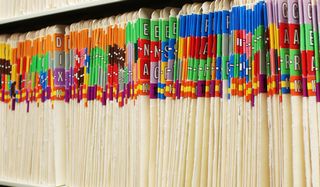 A-1 Freeman Moving Group proudly offers secure and organized Wichita Falls records management and document storage solutions at any of our 9 conveniently-located warehouses. Whether you're decluttering your office or you require safe, reliable housing for your most important documents, our state-of-the-art facilities are equipped to handle all of your needs.
We offer record storage solutions are perfect for archiving old records, sensitive files, and other essential paperwork and keeping them organized and secure. Our document storage solitions help you save space and money year-round! Our thorough document management services include the following:
HIPAA Compliant – You have to be in compliance, it has to be simple. We can help.
Long-term storage – We have cutting edge record storage facilities for all of your large or small document storage needs.
Bar-coding for immediate retrieval – No hassle, uncomplicated, just give me my records document access.
Pickup, deliver and courier service – When you need it and how you want it delivered.
Tape, x-ray and computer file storage – Yes, we can handle that document format.
Private auditing rooms – Safely review your records and documents away from prying eyes.
Document destruction – When document disposal requires certified processes and you want the peace of mind that comes with it being done right.
For more information on the records management services we offer at A-1 Freeman Moving Group, call us and talk to a friendly and knowledgeable Customer Support Specialist now! You can also fill out the Free Moving Quote form above for a complimentary FREE, no-obligation estimate today!
Request a free quote