Moving Blankets are a Life Saver on Moving Day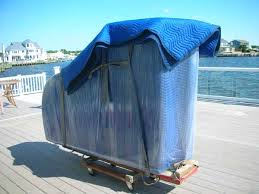 By Julie DeLong, A-1 Freeman Moving Group
When you plan to move, a lot of people set a date, contact a
moving company in Wichita Falls
, and buy moving materials. Boxes, tape, and packing paper are usually near the top of the list, succeeded by a roll of bubble wrap which the kids will try to swipe away to jump on.
While these types of must-have supplies are essential, making certain you have got moving blankets available will in addition make your moving day to proceed effectively.
Moving blankets are considered the key to making sure your bedroom furniture, bookcases, as well as the treasured bronze statue of your cat, Garfield, get delivered securely at their new destination. Think about them as the buddies that go the extra mile with your household furniture, keeping your items protected against the damage that sometimes occurs on moving day. Your local moving company in Wichita Falls could very well figure out how many blankets you will want to protect your sizeable things.
When Do I Need To Use Moving Blankets?
Local and long-distance professional movers in Wichita Falls utilize moving blankets with each and every moving job, and you should too. Use moving blankets to cover your most expensive things and keep them safe, secure, and clean when they are being moved. Since these cushioned cloths are designed to absorb shock, moving blankets could very well prevent your beloved coffee table or dining room chairs from becoming ruined throughout transit.
Moving blankets can also be used to cover your corners, banisters, and entryways during a move. Cover damage-prone places in your house with moving blankets to supply a tier of protection as home furnishings and other items are being moved.
How Ought I Use Them?
Furniture blankets are generally 6 to 7 feet each side and consist of various layers of filler materials (cotton, polyester, and nylon) sewn together just like a bedspread. Moving blankets are generally two-sided, regularly having a lighter-colored side plus a more dark side. Make use of the lighter side of the blanket to cover your items that will need additional protection over the move. The darker side will need to face out.
When traveling across the country, insert additional moving blankets inside the spaces between boxes and furniture to prevent shifting of items in the moving truck. For added protection, put plastic over your things should it be raining throughout your move, because moving blankets aren't waterproof.
Are Moving Blankets Worthwhile?
Absolutely. They are a simple, economical approach to prepare your things to be moved. Moving blankets are a great item to have on moving day for a couple purposes:
· They not just protect your antique tables from becoming banged up with dings, but they ensure that your vases, glass slippers, and lamps reach your storage unit or at your new residence in one piece.
· Moving blankets keep your nightstands clear of dirt, dust, and debris, and reduces the potential of your mirrors breaking during the move, preventing you from having seven years of bad luck.
Moving day needn't be stressful. Call us today to make sure your move is organized and also stress-free. Our professional local and long-distance movers in Wichita Falls are skilled, patient, and helpful, and are ready to help you with your local or cross-country moving undertaking.
Click below to get started with your Free Estimate.
Request a free quote