Out with the Old(er), Into a Newer Space: Seniors on the Move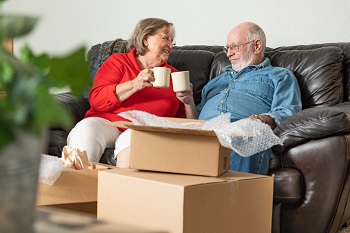 By Julie DeLong, A-1 Freeman Moving Group
America is a society on the move: over 32 million folks moved to a new home in 2018; that quantity represents about 10% of the total population. Seniors changing to new houses comprise a small yet vital component of people packing up and beginning again in new communities. Relocating to Wichita Falls can be a period of both joy as well as stress irrespective of family size and conditions however changing areas can present unique difficulties for senior individuals.
8 tips on a stress-less senior moving experience
Begin arranging in advance of moving day
Numerous variables go into the decision of when and where to move: wellness, the desire for an adjustment of scenery or sort of housing, living costs, the capacity to travel or even the desire to be closer (or a greater distance from) relatives and close friends. The option of a new residence includes access to retail stores, healthcare services, transportation, entertainment, and cultural centers. Study cities and towns of interest. Examine prevailing weather patterns, facilities, local politics, and community amenities as part of the evaluation. A lot of local newspapers are now web based, and it is beneficial reading through several days' worth to get a perception of day to day life in a prospective new hometown.
Inform family members of the choice
Keep members of the family current on the preparing of the move. Their engagement helps relieve the stress along with their insight, specifically from those that have moving knowledge, will be crucial to steer free from expensive and avoidable mistakes.
Prioritize what the new local community will need to fit the bill
Compare your community to the ones being considered. What do you like regarding where you reside now? What needs improvement? Subsequently create an advantage and disadvantage list. Are there details you enjoy so much that you will spend additional to have them? Are there items you simply cannot deal with, regardless of how much you adore the rest regarding the spot? There is not a perfect location, but some are wonderful; the bottom line is picking out the one that balances best with your senior lifestyle.
Get acquainted with the new community with a visit and/or rental for starters
Before you invest your money into a house or condo or put down two months' security deposit, do a short-term rental, a vacation or visit close by with friends or family and do a trial run of a new community. Stay a little bit, stroll, shop, dine, and connect with people, understand the social norms as well as local politics, and find out what it truly costs to reside there.
Declutter, donate, recycle, sell
You have made the conclusion to move on, now clean out prior to when you pack up. Declutter and donate, sell off, or recycle everything you will no longer really need, want, or is not going to fit in the new place. Just by carrying this out, your professional moving company in Wichita Falls should have a smaller amount to move, which will lower your total cost to move.
Fix it, wash it, paint it, or live with it: fixes vs. remodeling
Make decisions in regards to what to repair or replace as you get your old property in a position market or start preparing to move out of your condo. Basic repairs are generally undertakings like holes from the paintings around the walls should be filled in, scuffed wall surfaces painted, baseboards cleaned, the refrigerator rinsed, and the oven scoured. Large renovations may result in an increased resale on the house, but some makeovers could backfire should they be outdated by contemporary purchasers' specifications or so expensive you won't ever recoup the price.
Self-pack vs help to pack: lifting, loading, and letting somebody else to do it
Recognize your limits and keep your lists accessible. Getting hurt while packing up is not a way to commence a new life. The lists will allow you to recall the number of cartons you have and what's filled in each one, so that you do not set kitchenware inside the laundry room after getting to your new home. Honor your body's ability to work so many hours moving and labeling a multitude of cartons and grant yourself the assistance of a professional moving company in Wichita Falls.
The role of the professional movers
As a professional residential mover, A-1 Freeman Moving Group in Wichita Falls is here to aid you in getting from where you are to where you would like to be, soundly and efficiently. Our company specializes in the senior citizen moving experience and our just about half-century in the industry ensures that any move you make, should it be to a smaller property, retirement community or an international location will incorporate attentive packing and unloading, shipment tracking, home furnishings and appliance installation, as well as safeguard of floor surfaces, wall surfaces, banisters, as well as home furniture. Call us for a free of charge quote and we'll move you over the road to the next new residence.
Request a free quote